The resurgence of many chat rooms has been happening in the porn industry. There's Chatzy, there's isexychat.com and now we will discuss Adult FriendFinder. With the tagline, "The World's Number One Sex and Swinger Community" with 378 Live Broadcasts, 98,897,765 Hot Photos and 4,706,391 Connections, not to mention a few awards, Adult FriendFinder is worth the look. Let us check the basics, its main features and what major features that make this website win the award for # Adult Dating Site.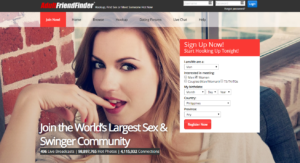 What Is Adult FriendFinder?
Adult FriendFinder is a dating site with multiple features that will provide not just viewing pleasure but various sexual and fetishist adventures. Upon entering the website, you will see the basic features.
Home
Browse
Hookup
Live Chat
Dating Forums
Help
The main page will tell you that Adult FriendFinder specializes in people searching for
Traditional partners
Swingers
Threesomes
Other Alternative Partners
Adult FriendFinder, nonetheless has these special features:
Adult Dating
Nude Cam Chat
AFF Sex Community.
But this website has a lot to offer and it's good if we look at three major features.
The Browse Option
The Browse Option will lead you to the profiles of various girls or guys living in your country and upon clicking on them, it will lead you to the link where you can register for a free membership.
Looking at the profile will make you check out four important options within the profile. These are:
Message
Flirt
Hotlist
Add As Friend
Register and you can start with this sooner than later.
The Hookup Option
Another major feature of Adult FriendFinder lies in the Hookup Option. Click on this and you will find it is divided into four other categories
Casual Sex
Swingers
Threesome
Cybersex
Click on any of these four categories and you will see various write-ups about the categories and the link that will lead you to register for the free membership.
The Dating Forums Option
Another major feature of Adult FriendFinder is the Dating Forums option. Click on this and you will find the option divided into four categories.
AFF Dating Blog
AFF Communities
Erotic Stories
Magazine
Member Blogs
The great thing about this feature is that Adult FriendFinder showcases writings and blogs both by guest writers and chat room members.  Here are a few titles from the blog section.
Five Tips for Hooking Up At Work.
How To Have Sex In Public - Five Easy Steps
A Beginner's Guide To Bondage
How To Turn Potential Dates Into Bed-Mates With Your Online Dating Profile
Other Special Features
Nonetheless, let us take a closer look at Adult FriendFinder's special features. Advertised at the main page of the website is Adult FriendFinder's Live Sex Cam and AFF Community. You can choose which video to view based on the following categories.
Gender-  Female, Male, and Transgender
Age- 18 to 19, 21 to 25, 25 to 40 and Mature
Ethnicity - Asian Girls, Ebony Girls, White Girls, Indian Girls, and Middle Eastern.
Specialty-  Couples, Live College Girls, Threesomes Cams and MILF
Hair Color - Black, Blonde Girls, Brunette Girls and Redheads
The AFF Sex Community, on the other hand, focuses on various communities within Adult FriendFinder where apart from the blogs discussed above, you can also be a part of reading Sex Stories and the blog entries of various members.
What Makes It Different From Other Websites
What makes Adult FriendFinder stand out is the fact that among the other chat and porn sites, Adult FriendFinder has a lot of features apart from live chats, chat rooms, and porn videos. Given that the registration is free, Adult FriendFinder is not just building a chat room for hookups but for various meetups, sex and dating categories. This website vows to build a community and not just a website.
Feedback from Other Websites
The website Mashable.com has called Adult FriendFinder "A Porn-tastic Hookup Site for Open Minded People", focusing on the categories of:
Sex
Finding Matches
Adding Friends on Your Profile
It shows the success and popularity this site will continue to have in the near future.
Other Media and Social Media Presence
Adult FriendFinder is one of the many websites who has maintained a consistent presence in social media.
Adult FriendFinder has maintained its presence on Twitter.
Adult FriendFinder even has a Wikipedia account.
Summary
It's one thing to say that chat sites are returning. Adult FriendFinder has not just brought chat sites but other wonderful and innovative features for the viewers. You can find your category for matches, dating, and sex. You can chat. You can watch live webcams. You can even write sex stories and blog entries. Go check it out for yourself.