What is ChatRoulette?
It's a site enabling you to engage in video chats with any people from around the world. That's why they took it from the word, roulette, from the French word meaning, "little wheel" or in other words, like spinning the wheel and see what you've got or random style. So you basically chat with random users anywhere.
In a nutshell, how they do it is that they pair any people for chatting on the web, just like what a roulette does.
Registration Not Required
The site does not require any registration. So this makes it easier for users to simply proceed to a page and then connect to strangers. Yes, you read it right. Chatroulette makes it so much easier to their users, that even your username or gender is not required as other sites do.
So what do they need from you? All they want is for you to show up to their platform. However, facial recognition is needed in order to initiate a conversation and necessitates you to smile at the webcam prior to getting connected to someone online.
Nevertheless, this is just a necessity at the onset of your conversation. This is also the reason as to why this hasn't prevented the exhibitionists and voyeurs to dominate the website; the only thing that's needed in order to activate the communication is to SMILE. Then that's it!
In this site, the users could easily disconnect from their chat mates and then decide to look for a new chat partner right away. For now, video is the only form of chat on hand. Text chatting is no longer supported.
Chatroulette's site design is left to the barest minimum. Almost no details could be seen. Only the webcam is accessible on its central page.
Nudity is very common here on this site and is not monitored.
The majority of their membership base is male. They are usually there on-site to show off their private organs for all the users to view.
On average, Chatroulette amasses around 3 million visits per month. The website earns approximately 1.5 million active users on a daily basis just 4 months after being launched.
Even though Chatroulette is marketed as a safe and fun method of meeting new individuals worldwide, still, it is not risk-free.
How Chatroulette Started and Became Popular
Incepted from the coding genius of the then minor Andrey Ternovskiy, (he was just 17 years old when he started operating Chatroulette), even minus advertising, Chatroulette became a worldwide hit via word-of-mouth, sparking curiosities of people from around the world and attracting even big-shot celebrities.
The site was launched last November 2009. And soon after that, it immediately amassed over a million and a half unique visitors on a daily basis. Word-of-mouth fame rapidly grew that fast. And take note that even big-time celebrities are into this, as users shared some of their screenshots having Chatroulette chats with high ticket celebs such as Jessica Alba, Ashton Kutcher, Justin Bieber, and more.
Other people gained their popularity by creating some of their own gimmicks and sharing it on the site. It has already generated its own mini-celebrity named Merton—also known as the Piano Improv Guy. Some would also wear cosplay outfits to entertain the person they were paired with.
And because of its popularity, film companies, as well as studios, have employed Chatroulette as a tool in order to advertise their products and movies. The most noteworthy one was that of 2010 when it was used for the horror movie, "The Last Exorcism". The scene looks like this: users will connect to a lovely brown-haired woman who will act shyly and starts to unbutton her top. Then, when she looks above, her eyes then began to roll behind her head and then cracks are forming surrounding her eyes. The next scene looks like her audio and video becomes choppy and then she begins to wreak havoc on the screen. After that, her video looks blackout, and then "thelastexorcism.com" is shown on the screen. This kind of promo became viral and successful, as seen on the horrified reactions taken from Youtube.
Chatroulette Then and Now
When you try to visit their website now, it is noticeable that back in 2010, the layout was so much different than it is now. Before, there used to be a familiar system of having a couple of screens on top of the other with a chat box that is generally on the screen at the right.
As of now, people are just shown with the camera screens. It has become a simplified version of sorts.
The Text Chatting Feature is Also Gone
Yes, now, the text chatting feature is already disabled. Perhaps the creators of Chatroulette decided that it is better that chatters are left to converse visually and talk to one another than simply type on their keyboards.
While it is known to be very spontaneous, however, Chatroulette suffered some controversies related to their usability features.
For one, as security is almost nonexistent, (no registration needed, remember?), users are not able to report their deviant or perverted partners that would harass them while on chat.
Pornography and inappropriate content on the site
Since the security is so lax, it is inevitable that people get to encounter men who masturbate (and they are usually not shy to hide it, they even want to share the view with you), that's why Chatroulette is also like a haven for perverts and for voyeurs who want to unleash their exhibitionist sides.
In a survey undertaken by RJMetrics, it was discovered that in 2010, 1 out of 8 conversations would lead into something R-rating exchanges "or worse" (Moore, 2010).
And also, because of its lacking in verification and monitoring, Chatroulette has been infamously known as a "predator's paradise". Not a good moniker to be known for, in my opinion.
Suicide-related controversy
There was a much-talked-about performance made online by the artist duo Eva and Franco Mattes in which they will chat to random people, then only to display a disarrayed room with a corpse of a man hanging from its ceiling. The performance's title is, "No Fun."
Reactions from various users resulted from disgust to shock to ridicule. Hence, that performance was banned from Youtube after that.
That's why, in response to that, Creators of the site launched its facial recognition structure. So as of this writing, Chatroulette could still decline people with the message, "Search rejected due to the detection of a possible under-age face.". No matter how flattering this can be for anyone trying to get into the site but is being slapped with that message, if this kind of system presents flawed results for even the most legal-aged person, who can still attest to the fact that it would not inaccurately approve a real minor who is trying to access it, right?
How to Report Obscene Users on the Site
If you find someone inappropriately trying to chat with you, with Chatroulette, you can now report that user.
They have a "Report" button you can click.
After that, you can see the message, "User Reported".
Then you would be led to your next connection.
Nonetheless, it's still not explicit if and when that user you reported gets banned from Chatroulette or not.
Just as how it quickly rose to fame on 2009, in the early 2010s, the site's popularity also rapidly faded.
But even despite that, Chatroulette still maintained its reputation of being a hotbed of constantly masturbating males and more and more men getting naked for the heck of it.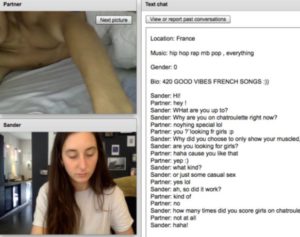 Competition and Lacks the Mobile Features
The site creators did not really disclose as to the reason why they deactivated their text chatting feature. Therefore, users are most likely to switch to Chatroulette's nearest rival, which is the Omegle. Since minus the text feature, chatters are compelled to talk to strangers online visually. And sadly, most of the users are really not the scrupulous type, and some of the men merely want to showcase their genitals, which other users find obscene and shocking.
And as for its other usability, Chatroulette is already behind when it comes to mobile-friendliness factor because it does not support apps from Android or iOS.
Therefore, what does this site offer new to its users? Nothing much, I can say. They need new innovation that will make them rise to the top again, like offering something new to the market. With various gimmickry left and right by other sites and service providers, they need to be creative on how to capture the interest of their patrons once again.
Mixed Reviews (Mostly Negative) from Other Users
Checking on the other reviews from various users online, I found out that it resulted in mixed reviews, generating mostly negative than positive feedback, especially from parents.
For positive reviews:
One user posted a review from 2017, saying that she or he enjoyed having fun chats with a stranger from random places for a few minutes. It's good as a time-killer though not really for making friends or building relationships.
For negative reviews:
Most parents are against this site. A reviewer posted this last March 2019. He/she warned parents not to visit this site because it's filled with men with "very explicit images that are not safe for children or even adults!!!"
One says that it's not for kids, because it employs instant video chatting with random strangers anywhere which can be a creepy experience. And poses higher risks.
A note for parents
For parents especially with teenage kids, you have to be wary of this site since Chatroulette enables anybody with internet connectivity and webcam to have a video chat with strangers from any parts of the globe.
So what if they don't have a built-in webcam from their laptops or any devices? Still, they can utilize the site itself and see others who are using it.
It's very easy to use. Just visit the site's homepage then click a button syncing your camera, and voila! You are now instantly connected to other strangers –just like that!
The Chat Roulette part comes when you do not want to talk to the one paired with you. So all you need to do is to click the "Next" button and then another stranger appears. Kind of like Tinder's "Swipe Right and Swipe Left" –that simple.
Aside from the Sex Side of It…
Aside from obscene men who wants to masturbate with their webcams readily zooming into their genitals, since the security is nil, aside from the sex side of the site, there are other risks.
Risks such as very impressionable young teenagers that meet people they have no idea about their backgrounds, you've no inkling where or how the entire discussion can lead into. And since almost no one on this site is up for building healthy friendships or relationships, others are simply there just to pass time or even to mock other people.
Combining the webcam capacities of Skype and social networking ease of Facebook, Chatroulette maximizes the advantage of the anonymous benefits of the World Wide Web.
It's pretty straightforward. Looking at the site, there isn't so much to see there. Just camera squares plus text boxes.
As for its technology, nothing really complex. It is quite intimidating to see some random guy's torso in all its naked glory, and most people are not comfortable with it. And for others, it is a major turn-off especially for those who are not used to it and may offend their delicate sensibilities.  It's simply in-your-face usability.
But despite its negative features, still, it's undeniable that many people (especially men) are addicted to this. Particularly those looking for a quick fix or cheap thrills to escape the mundane routine of their lives.
There are still other sites offering a similar type of service but they are regulated, hence, safer to use. As one parent's review said, "Don't let your child use it."