Let's talk about CamSoda, the adult cam site that you wish to come back to every time. It's real. It's indeed real! There are tons of adult cam sites out there but this one is worth coming back to again and again. Why so? It's because this adult cam site is worth more than just a mere sample. Maybe we are upselling it too much here but let's take a look at this adult cam site first in order to convince you that this is the way to go.
IChatOnline is here to review the entire site because that's what we do best. Maybe if you have some spare time you can go straight to the site already right after this review. Anyway, we're still here to give our thoughts so just read this before entering.
Welcome to CamSoda
Entering the homepage, you'll be pleased to see that the performers are there to instantly welcome you on the actual homepage. You'll have to filter them though if you are looking for a specific niche.
There's also the part where you need to make sure you specify your search especially if you already have a cam girl in mind. There's a legitimate feel to the online cams you'll see because you're going to see the snippets as they broadcast live. It changes every time they change streams.
Unlike other cam sites, the models here don't use clickbait pics. Their actual performances are the clickbait which you are likely to click. You're going to see only the fists 100 streams on the page but you will have to dig deeper for some hidden gems.
It's also worth mentioning that the cam girls here have a score to keep. The best performers get bumped up the algorithm which is why you'll need to deepen that search again for the underrated ones.
The more cash they earn, the higher the demand gets in price. That way, you'll need to make sure you put your money where it's worth it. Better yet, enjoy them while you can still afford the sustenance.
When it comes to categories, there aren't any shortage of such too. The popular ones on CamSoda are usually the squirters and the ones who prefer anal. Of course, the MILFs are also earning some serious coin here.
The CamSoda experience
We chose one stream at random to review the experience here. I closed my eyes and picked a video at random. I chanced upon a Latina who had a big booty.
Latinas and ebonies are like that so lucky me. She looks like she can be a swimsuit model which only added to my sexual fantasies. I tried not to spend as much but I couldn't help it. I eventually tipped and tipped and tipped just so she could give in to my requests.
It helps to have a high-quality camera too though. She was able to showcase her craft well and the demands were pouring in because a clear image is shown.
Just make sure your internet is as fast as mine so you can be able to enjoy the hot masturbation action that most of the models do here. I sure did with my Latina, which I wouldn't name drop to be fair for other cam models.
Some of the girls though would rather do their shows in public and make do with spare change tips rather than the bigger-paying privates. They probably want to gather as much clout and fans as they could before increasing their product demand.
I intentionally picked a blonde next which I didn't regret doing because this blondie sure knew how to do her thing. I didn't regret paying a thousand tokens just to see her go kinky on herself.
That's something that CamSoda offers. They have hundreds of models doing such things already. You just need to dig deep to find the ones you wish to lock in onto.
Create a free account on CamSoda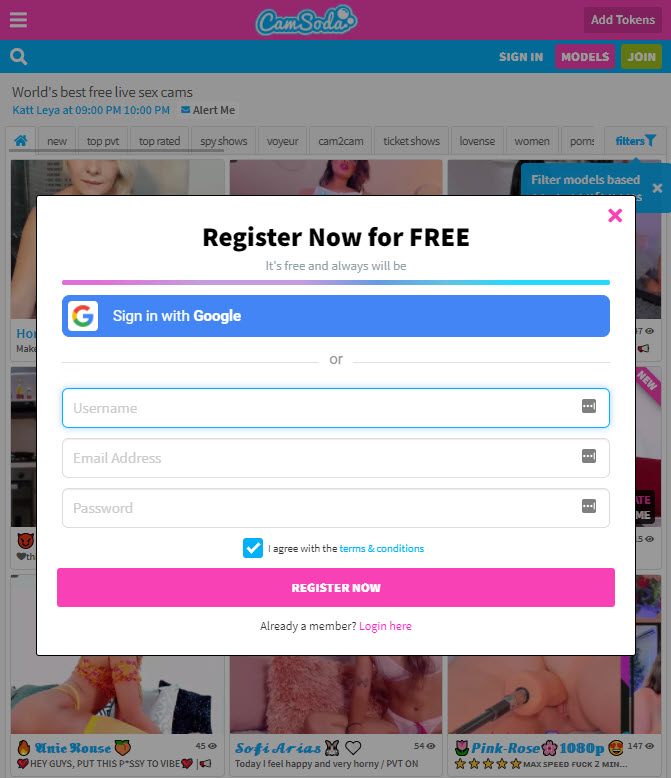 What else to look for
Live streams are basically entertainment. What's good about CamSoda is that they also offer premium clips that serve as exclusive content. While you might have limited connectivity when you go to certain places, these premium clips can be downloaded so you can jerk it off anywhere you want.
CamSoda also knows how to do hardcore. While such action is a model's discretion, it's part of the exclusive content as well where your favorite cam girl gets fucked hard by an actual man.
There are also regular porn clips from its affiliates that you might want to check out. Having those extra benefits are better than the ones you receive at work.
Final thoughts: Live sex streams, guaranteed entertainment
Okay, so what can we say about our overall experience on CamSoda? The fact that there are indeed plenty of changes made from when it first started signifies consistent growth.
There are hundreds of models here which means the site is really gaining traffic from them or vice versa. Everybody wins at the end of the day. While some might not appreciate such cam sites, it's better because live webcams have a spontaneous nature to them. It's like watching porn without being able to predict what is to happen.
Is it the best adult cam site on the internet? That is debatable. The industry can be quite competitive that you might not be able to determine who the leader is. Let's give props to CamSoda still because they were able to pull off being one of the go-to sites when seeking cam girl entertainment.
As long as CamSoda has the seal of approval of us from IChatOnline, all is well for this cam site!
It may interest you: JerkMate Review,  find your jerk mate.