If you are looking for a good site for adult chat rooms combined with friendly social networking, then meetinchat is your place to go.
This site is a new adult chat room bringing in a streamlined interface and user experience to a whole new level.
The Stats of MeetinChat
Claiming to be one of the rapidly growing adult chat websites on the World Wide Web, Meetinchat currently boasts of 10350 registered members (and still growing), 141 online users, 218 public rooms and 40 blog posts, Meetinchat believes that there is a more efficient way of connecting people from around the world. As their family of happy members is continually expanding, the site owners are aware that new members may be too overwhelmed with too many options that in the end, they may don't know where or how to even start their adult chat experience!
That's why site owners assure that they will still be there to help out new members so as not to be too inundated that they may get lost. That is where their efficient customer support system comes in, ready to lend a helping hand.
The site provides a channel wherein new individuals can meet other people from anywhere around the world and begin to chat with them. This meeting will then make way for them to chat, make friends and have fun. No more boundaries because the site owners provide a faster and secure system in which people could achieve more things here than simply chat.
When it comes to joining, people can do it instantly within seconds, and the best thing about it? No need to log in.
This site boasts of their 100% free and no registration needed when you enter their adult chat rooms.
You can also be free in sharing files and photos right away. As a matter of fact, you can watch videos or paste links altogether. And people are very open-minded here as well.
In general, the website has been created meticulously to make sure that everyone will be able to look for someone to chat with that is truly particular to what they're looking for, depending on their taste and standards.
Is this your first time to use an adult chat site?
Don't worry, you'd find it very relaxed and so easy to use since the interface is so effortless to navigate to. You may even wonder why you haven't done it earlier before.
For all of their members, you could freely use voice messages and their private rooms.
Generally speaking, Meetinchat aims to simplify the adult chat experience for everyone involved in the platform they are providing. They claim that they are more than just your other run-off-the-mill adult chat website. Instead, they are an entirely interactive website that enables members to grow their online social presence by way of various blog posts, talking about a very detailed personal profile about yourself, or even posting some artworks. Having this style will help bring those individuals with similar interests with yours to gradually gravitate towards you.
Are you seeking more than just one-on-one sex chat?
And this is especially true if you signed up here not just for the one-on-one sex chat alone. If yes, then there is another good option for you to: try one of the 50+ public chat rooms. With this option, you will be able to cooperate with the many areas of the site and explore more of what Meetinchat has in store for you. That's why the site owners can't wait to welcome new members like YOU to be a part of their family and enjoy the fun.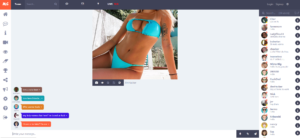 So what are their membership options you can choose from?
They have 3:
Guest. If you are a guest, you can enjoy FREE features such as Chat services with emoticons, avatars, they can easily send personal messages, voice messages (private and public)
Member. If you are a member, you get to enjoy FREE features like all the benefits that guests get to have, PLUS these advantages: you get to have your own personal blog, more guest visibility, personal page of your profile, user avatar (personalized) and more.
Premium (12 Euros/ annually). If you are a premium paying member, then you get to enjoy ALL features that Members have. PLUS: zero ads, your own personal gallery, maximized visibility of members, you also got hidden navigation panels, and more
Benefits of Meetinchat
Let's see what the members have to say regarding their first-hand experience on this website.
1)    You can easily build new friendships.
A member revealed that the Meetinchat is a great adult chat website wherein you could get to know new people from other parts of the world with similar interests. Just within minutes and a few clicks of your mouse, you meet plenty of people. You never run out of options of individuals whom you will find interesting and vice versa.
2)    Very easy to use.
The site is extremely effortless to navigate. You can simply create a room from the site's home page by just keying in any name you want, and then you could now send your pals the name of the room and they can easily join the gang! The best thing about this is that all the messages are encrypted prior to being sent.
They also have some rules to follow
Just like any other sites, you also need to adhere to some common house rules they have:
1)    No impersonation of others.
Doing so would mean a permanent ban from Meetinchat. This includes ALL users of the site such as members, employees, and moderators.
2)    No harassment of others.
If you're trying to force someone against their will, such as being rude to them abuse them or defame them in any means, then that is not good conduct tolerated in Meetinchat. Respect is valued here, and you just have to move on if someone does not want to chat with you.
So, if you'd like to chat with new people about anything and everything under the sun, then try to join the adult chat revolution of Meetinchat. joining is really easy as 1-2-3 and with various new members being added on a daily basis, for sure you would find someone that you'll get along with, so you never really have to worry about getting rejected because you know that there are way too plenty of fish in the sea! All you need to do is to choose!
-