Anyone is always down to get dirty with the sluttiest models. If you have the right platform for that, why the hell not, right? Bongacams Gay is one of the go-to sites when one wants to check out sexy gay models live on cam! There are hundreds of gays who go live simultaneously. While their ways of making your cock hard are different, they all have the same goal, which is to go and take you to Pleasure World. 
The website is free to use, and you don't need to create an account before watching cam shows. But if you want to get the most out of BongaCams Gay, then you should sign up so you can chat with your favorite gay models.
Let this sex cam site review be your guide! Before you try BongaCams, you should see its advantages, disadvantage, user experience, and rates. 
Pros and Cons of Using BongaCams Gay 
We noticed the things we liked and the things we didn't exactly hate but didn't love upon using BongaCams Gay. Read up on our pros and cons:  
PROS
Registration is fast and easy

There are thousands of hot gay models online

They have promotions on free tokens and gift cards

The website is plain but it's easy to use 

Full of high-quality resolution sex cams 
CONS
Going premium can be quite expensive 

You cannot join the chat room unless you've signed up 
BongaCamsGay: Membership Tiers and Prices
The website is a tip-based site, so you need to stock up on tokens to gain more influence over the sex cams. If you want to go beyond the free experience, the rates are worth checking out:
$2.99 for 33 tokens

$7.99 for 104 tokens

$19.99 for 267 tokens

$29.99 for 474 tokens

$49.99 for 842 tokens

$74.99 for 1265 tokens
Aside from the published rates for tokens, you should also be on the lookout for running promotions that will give you more to enjoy! For instance, BongaCams Gay has one-time bonuses like Exclusive Welcome Package where you can get 10 tokens and a lifetime gold membership, and 100 Tokens Mobile Bonus where you can get a bonus of up to 100 tokens by using your mobile device. 
The website also provides cashback of 200 tokens and a referral bonus. Basically, you need to explore the Promotions tab of the website to see what you can avail! 
BongaCams Gay: The Honest Experience  
Anyone who has tried using BongaCams Gay or BongaCams in the past would agree to the fact that the interface looks outdated. We listed that the website is easy-to-use, and yes, it's true. However, the design still needs improvements! There are so many things going on at first glance, although it gives highlight to the sex cams that are currently on air. When you linger on the page long enough, you'd probably see a couple of pop-ups inviting you to create an account right away.
I don't know if it's just me, but once is enough. If I am a new user who wants to explore a bit and just see what I can get from the site, I would hate the sudden "interruptions." Next, you can do a quick search and filter the details according to your preferences. You are free to adjust the age, region, and gender.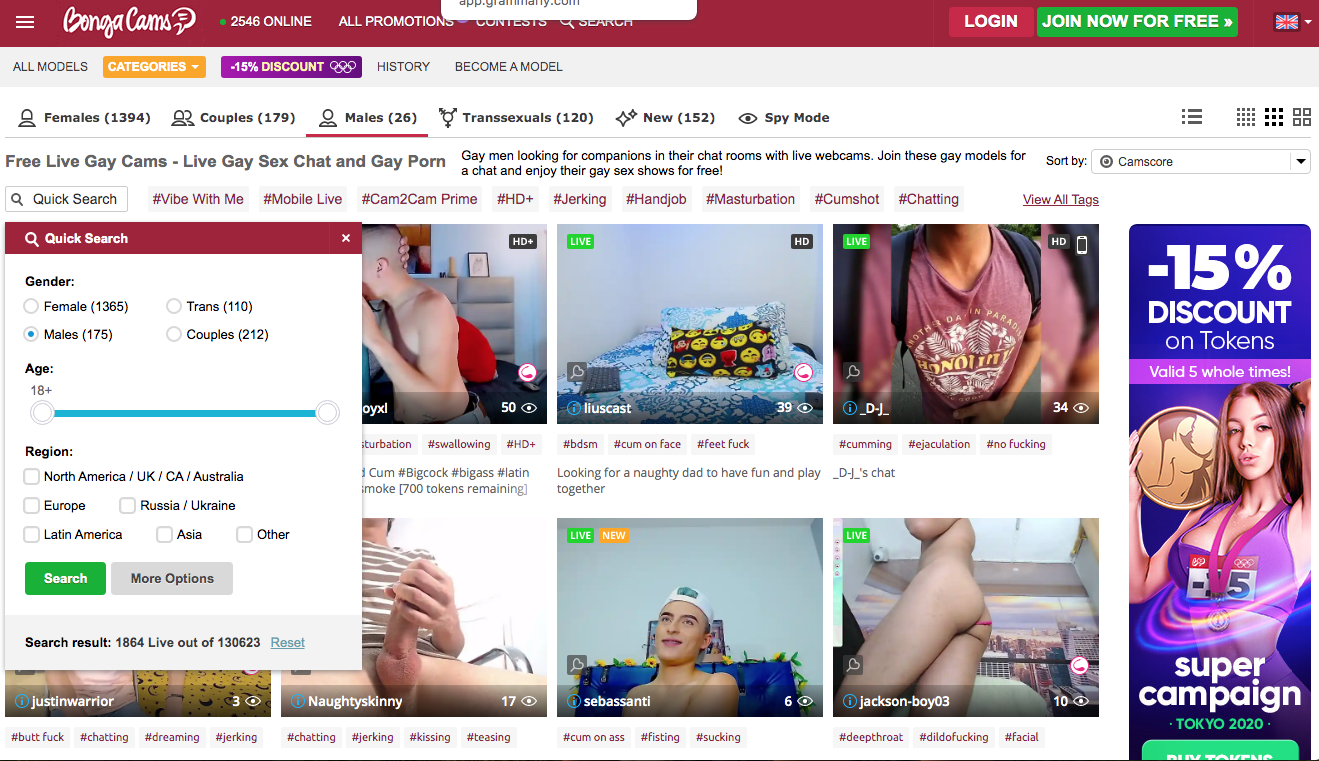 But if you want to stay at the page, you can choose from the thumbnails showing the live gay sex cams in real time. There are also helpful tags that let you choose the best video possible. What do you prefer? #MobileLive, #Cumshot, #Chatting, #Jerking, #Masturbation, or #HD+? Choose what you like best!
You will also have visibility over gay cam models who are online. Once they go live, they will appear on top and you can just click on the thumbnail to watch.
Chatting with the Gay Models of BongaCams Gay
Once you decide on your preferred gay model, then you can go to the chat and see what it's all about. If you have a free account (meaning, you haven't signed up yet), then the website will look pretty much like the screenshot above. You can watch and see the steamy action, but you cannot chat or request the models to do your fantasies.
You will have more control over that if you sign up and tip generously!
If you scroll down a bit more, you can also check out the profile of the gay cam model/s you are watching.
You'll see what makes the model horny and what turns him off. There is also a list of what he does on live cam, and from there, you can determine whether you want to stay for the show or not.
BongaCams Gay Features
For a free show, the nude shows are quite interesting. But there are also better things like the private chat. This lets you communicate with your preferred model one-on-one without worrying about other people!
If you want to save on a private show and still "enjoy" its benefits, then you might as well choose to spy on a private session. This feature allows you to view a private chat and read all the conversations. You can't exactly communicate with the models, but at least you can see their exclusive performances. The rate is 15 tokens per minute, although it might change and depend on the model's preferences.
You also have the option to try the group chat, which allows two or more members to be in the model's private room. The minimum number of members in the room will be determined by the model. Users can manually add themselves to a group chat that has already started by clicking the "Join" button. The rates for this are 30 tokens per minute.
Conclusion: Overall, our BongaCams Gay Review is a 8/10
BongaCams Gay is quite decent, and for a free sex cam site, there are a lot of things you'll enjoy! I can't stress the collection of gay models enough, because I actually had a hard time choosing which one to watch. I had to jump from a couple of shows to see what I like best. Good thing the website's load speed was fast!
If I were you, I'd take note of my favorite gay model so I can just come back to his show whenever I feel like jerking off!