If you are looking for some of the pioneering online sites when it comes to adult chat, then you may want to check out omegle.com. They have been around since 2008, and that's already long before the meteoric rise of the social media hype and other digital platforms.
What is Omegle?
It is an online chat service provider that is making it easy for people like you and me to meet new friends.
In a Nutshell
Using this platform means that the site picks a person in a random fashion and then lets you talk to him or her one-on-one.
What If I Only Want to Talk to Someone with the Same Interests Like Mine?
You can also include your other interests and Omegle would also be tasked to look for another individual who shares similar interests with yours; this is more targeted as opposed to having another human being picked for you at random. That's why it is really worth it if you take time in adding more info about yourself.
I Want to Have Fun, Sure. But is it Also Safe?
In order to chat with others but still not to compromise your safety, Omegle makes sure that your chats stay anonymous. Well, unless you reveal to another person who you are not—and let me tell you straight that this practice I absolutely a no-no!
Nevertheless, you can stop your chat anytime. Word has already spread that more and more scammers, as well as other online predators, have been using (and abusing) this site to look for their victims, so be careful and practice due diligence when using these adult chats, aside from Omegle.
The Other Features of Omegle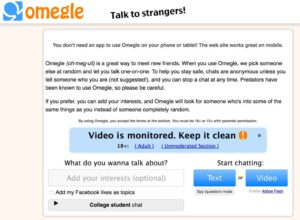 Tags
This is an optional field right in the site's homepage wherein you could add what you want to discuss about. This helps you in focusing to look for people with the same interests.
Video Chat
This is another option for online users if you want your faces to show through webcams throughout the chat with a total stranger. Interestingly, whilst most people reveal their faces during the conversations, there are also some chatters who wear masks for protecting their identity. Can you imagine chatting with a masked person?
College Student Chat
If you are one of those individuals that have certain preferences such as you only want to target college students, then you can always place your university email address that usually ends in .ac.XX or .edu.XX for verification purposes. Take note that your email address would not be kept nor would it be visible to the other chatters you converse with. Well, with the exception of your email address' domain, that is.
Spy-mode Chat
Now, this feature is the text-only version of the site. If you use this, it means that signing in is not necessary as well as your identity will not be disclosed. However, the only drawback to this Spy-mode chat mode is that –it goes both ways; while they can't see your true identity, you can't also see theirs. Fair enough, right?
The Users of Omegle
Currently, Omegle boasts of over 10,000 users online on a daily basis. Most of the users here are in this for 'dirty talk'. Bots are rampant inside the Omegle. Actually, no one can ever say who is online on the site, particularly if you are employing its text-only feature. Because of this, most chatters could certainly hide their real selves and try to show false identities.
Still, with numerous test chats, it is easy to conclude that most often than not, the majority of Omegle users these days are just searching for perverted talks and nude pictures—and this is not just applicable to male users; even female users also are into this. Even with video chats, most chatters here will frankly ask to see their chat mates' private parts—even whilst they have their faces visible. And because of this, Omegle has already provided a disclaimer as well as a policy right smacked on their home page in order to also protect themselves from any liabilities if ever their site is being used (or misused) for any unlawful activities.
Though this site has initially championed its goal as a means for creating friendships from strangers around the world, many people took advantage of this platform with bad intentions, such as scamming others and looking for nude photos. As a matter of fact, these days, it's getting harder and harder to look for some decent conversation if all you're searching for is a new platonic friend.