Badoo is an online dating site that was formed in 2006. The site offers its services for free. Badoo became popular through Facebook dating games and quizzes before it became independent in 2012. The site considers itself a social media website that focuses more on dating. Badoo has witnessed a quick growth in the recent past due to the increasing interest in online dating.
Badoo has over 50 million active users worldwide, with about 300 thousand daily registrations. The site is in over 40 languages, and it operates in 180 countries. Badoo has made it even easier to interact and meet people from all over the world. Let's take a look at Badoo and see if it is an awesome dating site.
Creating an Account
Like almost every dating site Badoo requires its users to have accounts. The account creation process is easy and takes a few minutes. You will need to provide your name, gender, city, and what you want. The 'what you want' option requires you to state if you want chats, friendships or dates.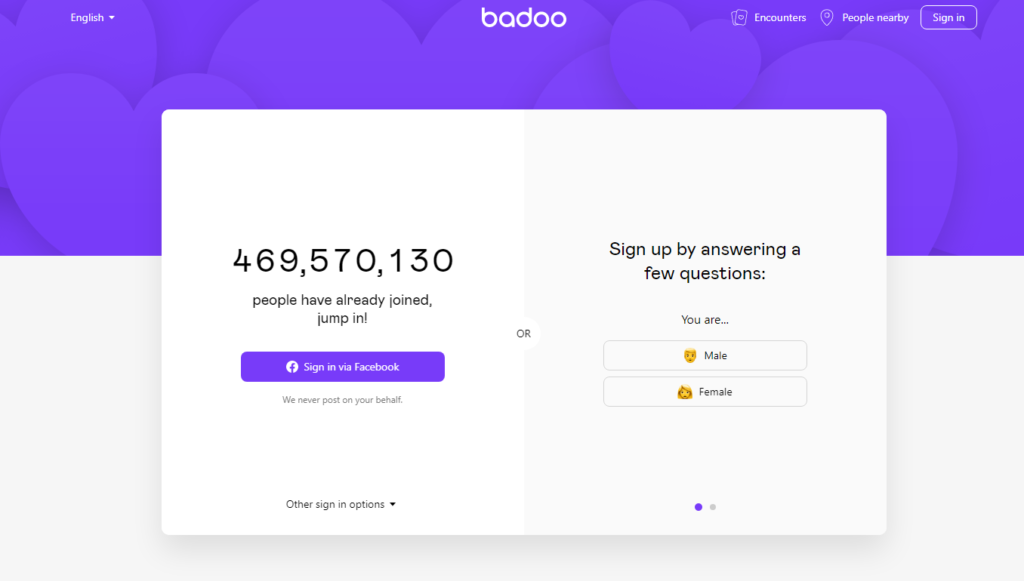 Badoo also requires its members to upload a profile photo, although this is not mandatory. You will then receive an email from the Badoo team. Click on the email for your account verification. After verification, you can access the site and start using it.
Consider verifying your account for a better experience.  To have your account fully verified, you need to connect it to your social media accounts. Alternatively, you can use your phone for verification. Once your account is verified a blue checkmark is added to your profile. The verification process is not mandatory. You can still use an account that has not been verified
Badoo limits some of its users from using certain features until they upload at least one picture to their profiles. Features, like playing games and purchasing coins, can only be accessed by users who have uploaded a picture.
The site uses an advanced algorithm to verify the user's photo. If your photo verification process fails you are blocked, and you can't access your profile.
Badoo Features
Badoo has some cool features that make the site awesome. Here are some features you will find on Badoo.com.
Badoo Messaging feature
This feature enables members to message each other freely. Messaging on Badoo is absolutely free, but you need to have uploaded your profile picture before you can use the feature. You are only allowed to send two messages to the users you haven matched with. Badoo will only allow you to continue messaging if your previous two messages have been replied.
Badoo allows you to get notifications on your browser or in your email once you get a new message. You can also save the users you are interested in on the favorites list available on your profile. There is also a useful blocking feature for users who use offensive words.
Badoo Encounters
This is a game that helps you find a match easily. The feature shows you several matches with each having the profile picture and information about the user. To play the game, you need to press the heart icon for the profiles you like and the X icon for the ones you don't. The feature also allows you to use filters like age and gender.
Badoo Live
This feature enables members to video stream. Other members can also be invited to join and watch.  You can also give gifts to streamers. These gifts help the streamer become more popular. The streaming service is of good quality.
Nearby Friends Feature
This feature allows you to find friends who are near you. This feature isn't perfect. You might find users who have their locations private ending up as people nearby.
Badoo Prices
Most features on Badoo are free, but some other features require users to upgrade to premium. You can also purchase credits if you don't want to upgrade to premium. Here are the premium charges
1 month for $12.99 per month
3 months for $10.66 per month
6 months for $8.00 per month
You can also buy credits using any of the following plans
100 credits at $0.03 per credit
550 credits at $0.02 per credit
1,250 credits at $0.02 per credit
The site accepts several forms of payment like a credit card, PayPal and mobile money.
Pros
Most features are offered for free
The prices are relatively low
Millions of users
Cons
Some features require a premium account or credits
Bottom Line
Badoo has so far been a good online dating site. The site is popular, and it is better compared