Do you love watching naughty vixens getting wet and wild on cam? Welcome to the cam lovers club, man — fist bump! 
Recently, I discovered a small but thriving cam site on the Web called Firecams. One of the best things about this camming platform is its mobile option which is a plus for me. For me, it can be included in the Best Live Cam Sites of 2020. It offers a wide range of European and blonde models from different studios. There are even some who are independent performers. 
Aside from having bombshells on the platform, it also has dudes and trannies. They might be small in number, but their presence is a good option for variety.
The good thing about this website is its reasonable pricing. So yeah, it's a good place to find your ideal girl. 
Firecams has an excellent search filter which means it won't take long before you find your "the one". If you want to find more about this website, you can check it out yourself or read further in this article. 
What is Firecams? 
When I first arrived on Firecams, I noticed that it looks quite similar to other modern cam platforms on the Web. It's not a bad thing nor a good thing. 
Sometimes similarities like this can mean websites are not a separate service and might be a white label of a more popular brand. However, it's worth noting that Firecams isn't a clone of Streamate or Chaturbate. It's a real camming site in its own right. 
It has a neat-looking interface that looks like a mobile version even if you're browsing it on a computer. Well, that's what developers call a "mobile-first design".
Through this design, you can focus more on the jaw-dropping photos of models. Their names are also displayed which is a good thing. That way, I'd know who I'm jerking off to. At least, my virtual fuck buddy would have a name. 
The types of thumbnails can vary. There are some glamour-style images, live pics and frames from previous performances. However, most of them are in a typical studio setup. You know, the standard bed-and-Ikea decor. 
You won't find any shows with bad lighting on Firecams. If you're used to out-of-focus live streams, then you might be having your well-deserved fun here. All of the performers are professional and they all know how to make a great first impression. 
Although the screen looks pretty simple, it has tons of indicators and controls you can check out. If you want to determine who are the new models, try looking at the top right of each thumbnail. You may find a blue flag with the word "new".
During my first visit, AliceeBlanck was a new performer. She might be a greenhorn but I don't think we can call her inexperienced. This kinky hottie just knows how to make the chat room extra special. 
Once you're a regular visitor, you might want to check out for new additions on the models list by looking for the blue flag. 
Another flag that you may want to look out for is the "free>tip". This means that the model is waiting for her audience to send her enough tips before starting the show. 
These performers are usually in their lingerie when you enter the room so expect to see a lot of skin. You may also notice a text that says "You are in a free chat room". But remember that you can't chat without an account. 
Well, being a stubborn bastard that I am, I still tried sending a message. The site then prompted me with a pop-up window saying: "Guests are not allowed to send messages in this room". Underneath that is the Join for free button. 
You can still continue exploring the platform without an account but every now and then Firecams will encourage you to signup. Clicking the "X" button is possible but after some time it can get irritating. When that happens, you'll be forced to create an account. I guess that's exactly the reason for bombarding you with annoying messages. Very effective, right? 
If you're enjoying the sight of delish babes, then I guess you might sign up right away. After all, you can't enjoy its attractive features without a membership. 
Other rooms are marked as "private" or "party". In private, you can get privvy with your ideal girl. While in party, you can ogle at a salacious chick together with a group. 
Firecams has tons of chat rooms
If there's one thing you might need to know, it's that it really doesn't matter which chat rooms you enter. But of course, there's a clear distinction between private and free that models have to follow. 
Free chat is the most common room you'll find on Firecams. In this kind of room, you can just hang out or simply admire the performer. It's also possible to chat if the model doesn't require money to talk or if you have enough credits. This is the starting point for private and party chats. 
However, you might want to take note that there's zero nudity on free chat. The only stuff you might see are cute lingeries and a few unintentional flashes. 
The gorgeous vixen you're watching would love it if you start a private show. The only downside is, it might not be totally private. Only the two of you can hear the audio and read the chats but other people can still watch the show. 
This is a win-win situation for the performers as they may earn extra income from viewers who just prefer to watch. But don't fret as all her attention will be given to you. So yeah, that's fun! 
You can start a private show by clicking on the "Start Private Show" button, and once the model accepts, you're good to go. 
Another type of chat is the Nude Chat. It might be closely similar with Party Chat but there's a fine line that separates these two. 
In both options, a group of people can interact with the streamer. But when you're in Party Chat, you can enable cam2cam sending which can cost extra. 
If you're going to turn on your webcam during the show, only the host can see you. That means, other attendees won't. 
On top of that, when a model is doing a show, other members can take a peek. Through that, you can watch the show without seeing the chats and hearing the audios.  As in, zero interactions. 
So if you're content with just being a mere audience, then this Firecams feature might be perfect for you. But of course, you can expect that it's not a cheap option. 
I can't give you the exact fee because that depends on the model. I recommend you voyeur on chat rooms of new hosts as they might still be too shy to charge a large amount. 
In all kinds of private shows, you can turn on your own webcam by clicking on the cam-to-cam option. However, this is only possible if the model allows you to as some bombshells may find it distracting. 
Firecams' search filters
Do you know what's the bad thing about having too many options? It's having too many options. 
Finding the best room for your needs is not that hard because of the efficient search feature. There are several categories and filters that can help you narrow down your options. 
I saw other smaller sites that didn't bother adding a search option. But when there are already hundreds of models on the platform, it can be hard to look at every single one of them. 
During peak hours on Firecams, you can find a few hundred luscious chicks streaming live. However, only a small portion of them are on Nude Chat which means it can still take a while for you to find what you want.
Fortunately, with the filtering options, things are much easier. It can help you navigate the site smoothly. 
On the right side of the search box, you can find a button that expands into a wide range of options. Through that, you can be more specific on what you want in your virtual sex partner. You can filter the performers based on their ethnicity, age, body type, and other attributes. 
For gender, you can pick from female, male, and tranny. 
For orientation, there are straight, bi girls sex, bi guys sex, gay guys, and lesbian sex. 
For status, online and offline. 
For age, 18 to 19, 20 to 25, 26 to 30, 31 to 40, mature (over 40), and MILF. 
For origin, white girls, ebony girls, Asian babes, Latina girls, Indian girls, Middle Eastern, Other ethnicity. 
For hair, black hair, blonde girls, brunette girls, gray hair, red hair, and white hair. 
For eyes, black, blue, brown, green, gray, hazel. 
For body type, BBW cams, curvy, petite, huge tits, big boobs, and small tits. 
You might not find "happy girls" or "gamer chicks" here but then, other platforms don't have that option too. Well, I think that's too much to ask for. 
Going back, after filtering the models, you can see a list of both online and offline hosts. It means you can mark as many models as you can even if they're not online. That way, you can add them to your favorites list and simply wait for them to go online. 
Firecams offers top-notch quality videos even for guests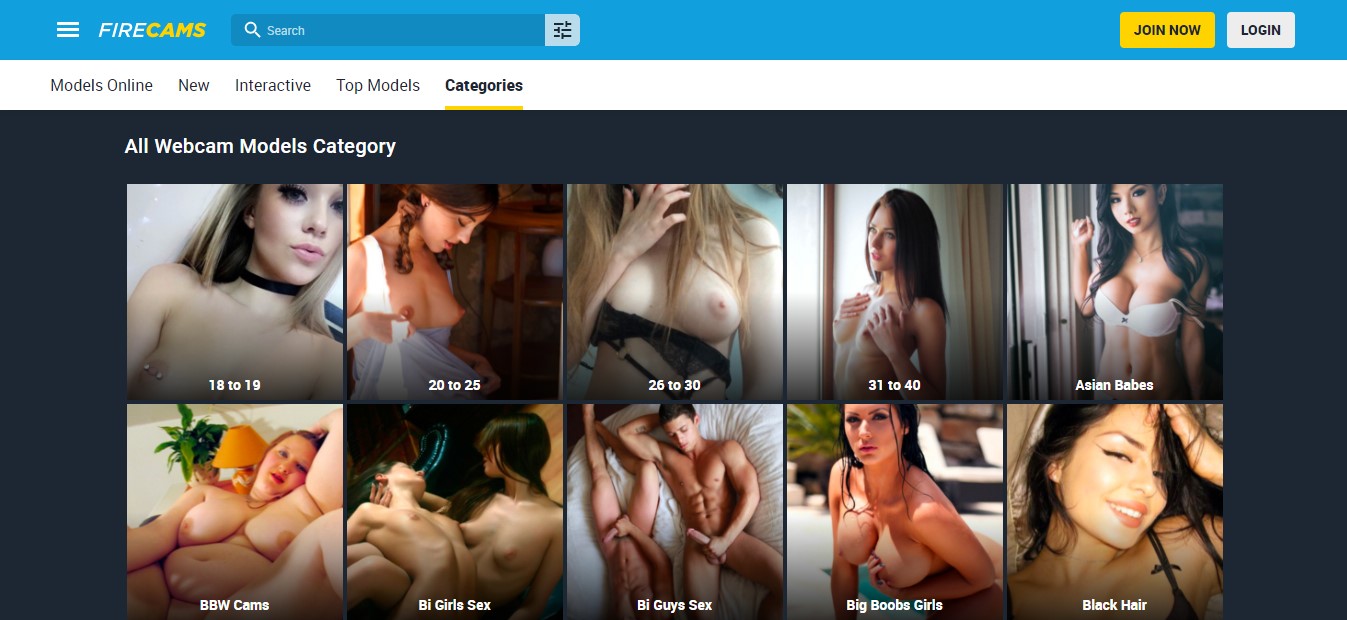 One of the good things about Firecams is you can watch a live video even without an account. You can see the text chats and the quality of the stream is also great. 
The only thing you can't do is interact with the model and other users. 
You can still toggle some of the options like turning the sound on and off. You might want to take note that the sounds start as soon as you enter a room. That said, I recommend that you only browse Firecams when you're alone. And I don't think you're planning to check out NSFW (Not Safe For Work) stuff while at work, right?
When you look closer at the screen, you might notice other options. One good feature is the full screen button that works even if you're an unregistered guest. 
Clicking it will make the video bigger together with the chats. So yeah, you'll still see the messages on full-screen mode. What I'm saying here is, it'll still look exactly the same minus the browser bar and other controls. 
It's like pressing F11 on Chrome. But since the search bar is no longer in view, you'll have more space. This option is very useful when you're on a laptop but won't be much help on mobile. 
On top of that, you can toggle the SD and HD button. It can make the video sharp but it can also be a bit slow. I think it's better if you put the quality on "auto". That way, the site will decide what's the best resolution for your connection. 
While watching the show, you might be irritated with the constant pop-ups that convince you to join. Well, if you're going to ask me, I think that's a sign that you should go and create an account. 
You don't have to worry about a lengthy registration process as Firecams will only ask for your username, email, and password–that's it.
Once you're done with the form, you might need to agree with the terms and conditions of the site. It might also send you newsletters so you might want to create a separate email for it. It's not advisable to use an email address that you use for work. Unless you want to be bombarded with emails from an adult entertainment platform while you're in the office. 
You can also enter whatever email you like in the form as Firecams doesn't bother verifying it. But if you'd want to reset your password in the future, you might want to provide a real and working email address. 
Here's my final say
Firecams is a good site if you want to spice up your nights with sizzlin' hot performances of cam models. It can be the ideal go-to place for cam porn lovers like myself. 
If you want to get nastier tonight, you can check out these top 10 sexiest Chaturbate webcam girls.