It seems that the chat rooms are returning despite the existence of many chat apps like Facebook Messenger, Skype, Kik, Line, and SnapChat. Or maybe they have never left and they have just been innovating on their own features. Take, for instance, Isexychat.com. You may think of this as an obscure website that is hardly maintained. Nonetheless, taking a lot of Isexychat.com can make you explore their features that may be at par with the current chat apps and even be better. Let us look at isexychat, their main features and the other things that make this site rather popular.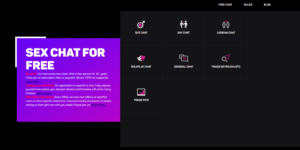 What Is Isexychat.com?
Isexychat.com is a free online adult chat website with multiple chat rooms for the viewers. On their main page, they have rooms for the following categories:
Sex Chat
Gay Chat
Lesbian Chat
Roleplay Chat
General Chat
Trade Skype/Kik/Etc
Trade Pics
Click on one of those categories and you can chat for free given certain rules. But you will have to register through a domain they offer. Nonetheless, on the main page, you will also see certain disclaimers about isexychat.com
Our chat rooms without login are anonymous and free
Sharing sexy pictures, live chats and messenger apps
Active and biggest sex chat community
Nickname colors
Free private sex chats
Click on the Find Out More option and you will see a disclaimer that says
None of the chats require registration or signups
All that is required are usernames which will make you and every other chatter anonymous.
The registration of the user names may come in handy when you become a regular visitor in their chat rooms.
Main Features
Upon entering isexychat.com, scroll down to see their main features. They are the following:
Home
Chat Rooms
Rules
Blog
Terms & Conditions
A Look At Major Features
But let's take a closer look at not one but two features. The Rules and the Blog features of isexychat.com. For some reason, this chat room has elaborated a long list of rules for the chatter adding a little limit to the free chat option.
Inappropriate users can be reported through private messages to the chat moderator
Failing to follow the rules can lead to being banned from one if not all of isexychat.com's chat rooms.
You must be 18 and above to be a member.
You are not allowed to bring up the topic of incest, pedophilia, bestiality, rape, kidnapping or any illegal activities.
You are not allowed to engage in racist, sexist or homophobic language.
You are not to engage in any abusive behavior such as trolling, fighting and name-calling.
You are advised to use English and English only.
You are discouraged from using multiple nicknames.
You are discouraged from posting advertisements.
You are discouraged from gender-bending or pretending to be of another gender.
You are discouraged from flooding the chat room.
You are encouraged to keep role-plays private.
You are encouraged to respect other users.
Isexychat.com is even basing their rules on the Mibbit network rules.
Apart from this feature is the blog feature. It shows that isexychat.com is not just a typical sleazy porn site and it has write-ups and articles that show porn can be dealt with in forms of writing, journalism, and accounts of sexual intercourse and sexual adventures. Here are the following titles.
How To Make A Guy Horny With Sexting
Webcam Modelling: The Best Payment/Options For Webcam Models
All to prove that such people would want to write about pornography and such "taboo" topics.
Reviews of Isexychat.com
A website called meetagirls.com has given favorable reviews to isexychat.com, giving it 4.7 out of 5 stars. The focus for their criteria was the benefits of a chat environment and how user-friendly the site is.
Similar Websites
The website thebestfetishsites.com has provided a link to isexychat.com but has nonetheless provided links to a website similar to it. Here are the following titles.
SlutRoulette
MeetInChat
DirtyRoulette
ChatPig
ChatRandom
FlingSter
The website theporndude.com has also listed websites that will give the viewer almost the same treatment as isexychat.com does. These are the 12 titles.
Omegle
ChatAvenue
FreeChatNow
321SexChat
Meet In Chat
DirtyRoulette
ChatRandom
Chatzy
CooMeet
FlingSter
ChatRoulette
Chatropolis
Summary
The chat rooms are returning and they might end up challenging the big apps and social media sites. It seems some people are happy to go back to the chat environment and having user names and remember the chat room days. That can happen with isexychat.com with their chat rooms and other features. An intelligent and innovative website that adds more flair and class to the world of pornography.
See for yourself. But don't break the chat rooms' rules and get yourself banned.