Milo Madera is that beautiful milk chocolate man with his nice color balance and well endowment!
He may not be classified as ebony but he still packs something that most black guys do. That's the advantage of being Brazilian and hot.
Will you believe that such a strong-looking face is actually a gay guy? All the more does he add to the sexual fantasies of many. If you haven't seen his sex videos, you must really do!
Talk about being radical. Milo is open to doing anything from your normal top and bottom to the kinkiest stuff. Mind you, he also loves the orgies!
Milo's favorite thing to do is probably being sucked by another male. What assets make him such a coveted piece of sculpture in the gay community?
It's time to talk about this hot cocoa man!
Milo Madera Information
He may not have the generic good looks but Milo has a niche of his own. He belongs to a class of fit men who thrive more with the rugged look. He has quite the vital stats for a male pornstar to show too!
Hair: Black
Eyes: Brown
Ethnicity: Latin (Brazilian)
Tattoos: Left pec
Dick Size: 8-inch dick (uncut / uncircumcised)
Height: 5'9″
Weight: 165lbs
Milo Madera Hot Photos That Will Make You Hard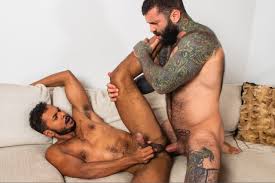 You can already see that Milo Madera is already well hung for how tall he is. At least we know that there's that even distribution between his height, his muscles, and his cock!
Pictures alone are enough to make you imagine things if you are a gay guy. You probably have tried plugging in a dildo into yourself already just by looking at his pics.
Just to fill you in on some piece of a spoiler, Milo has more to offer than what he currently has. How about a video to prove that?
Milo Madera Video
Hi BOYS! #THEBOYNEXTDOOR aka my new favourite neighbour and I had a great time meeting each other. Do not forget to check out how I introduced myself 😈

👉https://t.co/svTNF9KB79 pic.twitter.com/fcix7nvHEQ

— Milo Madera (@MiloMaderaxxx) March 4, 2021
Just look at how Milo plays the stick and how hot the action is. Obviously the photos aren't enough to show you how steamy it gets with Milo around.
He's the type you hire as a stripper to a bridal shower, especially if it's a gay bride. He might even force you to cheat on your fiancee if that's the case.
If Milo is like this in bits and pieces, how much more if you watch his full videos and live cams? You surely will never go wrong with those.
Milo Madera on Social Media
How about we get more of Milo Madera on his socials? It's a gem for hot gay action!