Nothing beats the satisfaction you can get from watching two hotties getting wet and wild on camera. So, if you like some lesbian action, then you came to the right place as I'm gonna give you a list of the best lesbian pairs out there!
These ladies love playing with themselves and with each other. They even have an awesome collection of sex toys to intensify things in the bedroom. 
Some things they can do on webcam are ass-to-ass, pegging, and of course, everyone's favorite: cunnilingus!
When you catch their shows, you might want to tell them exactly what you want and they'd give you one hell of a show. 
So, hopefully, you can handle all the heat that these lovely lesbo stars have to offer. It's time to give in to your urges and start fapping to cam shows of these bombastic lesbos!
#1: Lara and Nikki
Do you want some hot and classy lesbians? Well, it looks like Lara and Nikki are for you! They're the best choice for those horny souls with meticulous taste when it comes to lesbian webcam shows. 
They may look sophisticated, but they're game for everything when their guests ask for it. What's even awesome about them is they accommodate everyone and make sure to give them one hell of a show they won't forget! 
Once you see their luscious pussies, you might want to lick 'em oh-so-good!
#2: 00SquirtDivas
A sexy and sensual pair! These two divas are of the same age — so chances are, they understand each other's needs pretty well. 
One is a redhead while the other is blonde. Oh, I bet they're trouble. I mean, seeing just one titillating babe is enough to get you cumming all over, but two is definitely a lot better. 
They can provide you sensual sex chats while they're busy touching each other's bodies. You'd even see them lick each other's pussies and kiss each other passionately. 
00SquirtDivas love fucking and cumming together — that's their specialty!
#3: Nikky4Ammy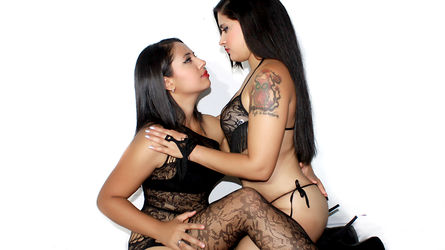 Lo and behold, a red-hot Hispanic lesbian pair!
What I really like about these girls is they really know how to please and tease each other. And they're the type of cam stars who know exactly what their guests want to see. 
You can watch them suck and finger their pussies, and insert huge dildos inside their vajayjays. 
Their moans would be music to your ears, and you'd wish you could join the fun. Oh, how I wished I could as well — licking their pussies could bring me to cloud nine for sure!
The goal of Nikky4Ammy is to satisfy all your sexual cravings with the hottest girl-on-girl cam action you'll ever watch!
#4 SusieKathy
When you book a private show with Susie and Kathy, you'd be in for a super show! Well, that's no surprise as their favorite pastime is to pamper each other. 
Oh yes — expect some crazy lesbian action from these two. You'd usually see them rubbing their pussies against each other. 
Their synchronized moans are gonna make your cock so hard that you'd explode into an orgasm in no time. Take note that they use all they have — dildo, tongue, mouths, fingers, and more– the works!
Make your choice and enjoy!