Are you seeking a potential partner who can give you a great time while you get lost in pleasure? Then you've probably tried a bunch of adult gay chat websites just to see what it's all about. You never know where you will find someone fun and interesting!
Here's another one you should add to your must-try! Chatropolis Gay is where you can try your luck in finding a decent gay match right on the internet. The website has been in operation since 2004, and there are lots of chat rooms and topics to choose from, depending on your preference. 
Check out this Chatropolis Gay review today to see whether the site is worth it or not. We'll cover the pros and cons, membership price, as well as our honest experience using it.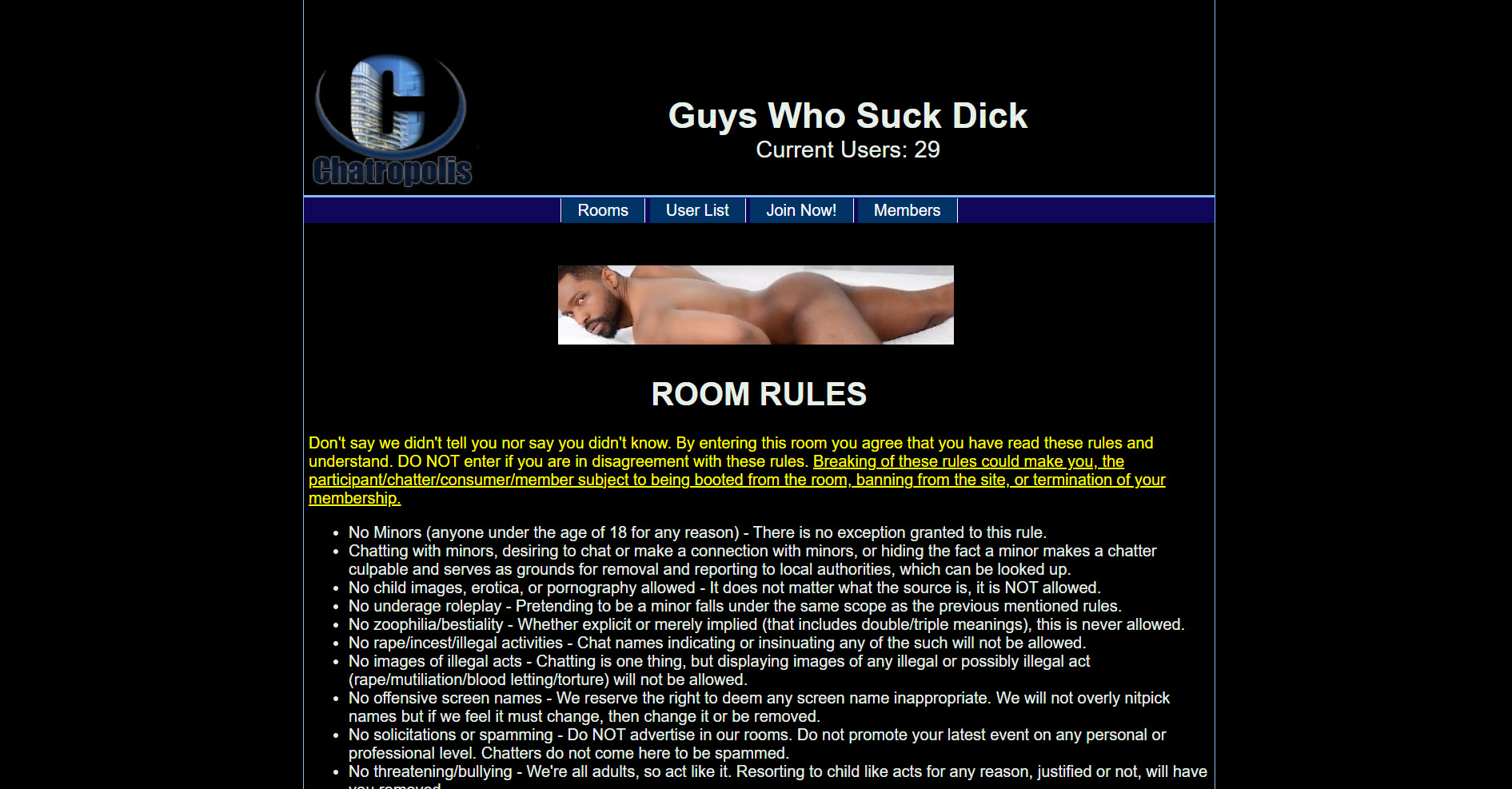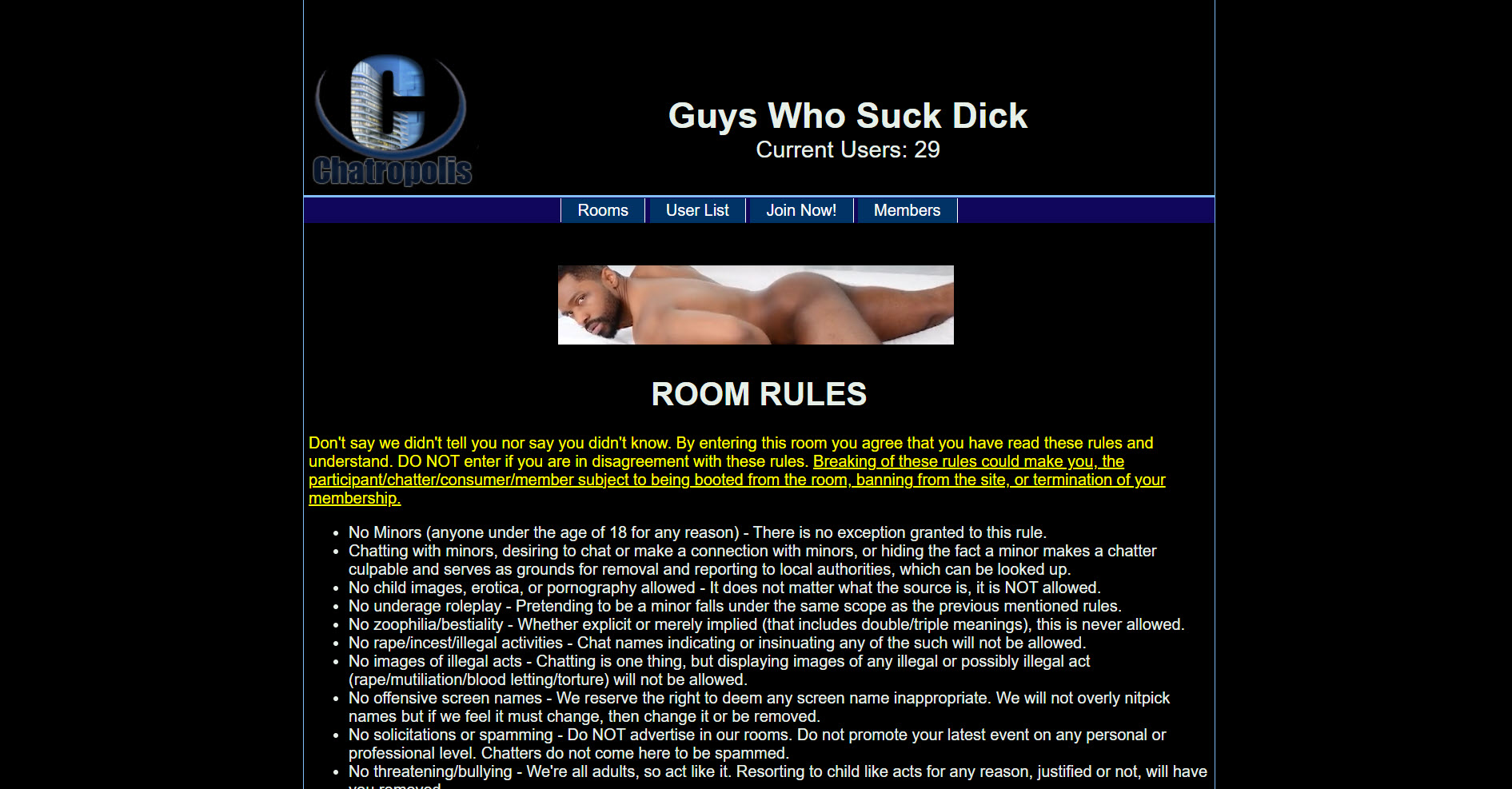 Pros and Cons of Using Chatropolis Gay
Chatropolis Gay is pretty straightforward. It is an adult chat platform that's been around for a few years now, and it is a place you can try to find another person who is as horny as thirsty as you are. 
The website doesn't exactly brand itself as a dating or a matchmaking platform, so if you are expecting to find your true love here…. the answer is nope! Turn away if you thought that was possible. 
For now, here are the pros and cons we experience while using the site: 
PROS
You can filter the topic lists and find an adult chat room dedicated to that

You have the power to create your own room and set your own rules
CONS
You'd wonder whether there are actual members using the site 

There's not much activity here

You can browse for free, but you can't do anything else (including chat) without paying

The website looks old and isn't really appealing 
Chatropolis Gay: Membership Tiers and Prices
Honestly, we're disappointed that we need to pay before we chat with the other members on the website. It doesn't even have much activity, to begin with, so how can I make sure that I'll get my money's worth once I pay? But then again, it's just me. Maybe other users don't mind paying for Chatropolis Gay's packages right away. 
You won't get to enjoy the platform if you don't become a member. If you are serious about becoming one, then you'll be able to enjoy these features as posted on the website: 
Never be locked out of a room again

Telegraph or communicate with moderators when you need them

Reserve your screen name

Reserve up to 5 URLs 

Be in up to 5 rooms at a time

Post up to 3 images at a time

Prefix your message text with color

Customized user list

Upload your own temporary avatars 

Technical Support Priority

Create conference chats with friends (pending)

Have access to private rooms (pending)

Flag and report abusive messages (pending)
The site also says that there are more features to come, so you probably need to wait for the next update. These membership features come with a cost and the rates are as follows:
1 month – $12.95 every 30 days (recurring)

3 months – $22.95 for 90 days (non-recurring)
6 months – $32.95 for 180 days (non-recurring)
12 months – $46.95 for 365 days (non-recurring)
Chatropolis Gay: What Should You Expect?
When you first visit Chatropolis, you'd think that it is an adult platform for guys because all of the featured photos and videos show a cute girl getting fucked by her guy partner. But this website is actually home to more sausages! By that, we mean males and gays. 
To start, you can browse all of the chat rooms here to see if there is something that will stand out. Although, that can be pretty hard given the super outdated interface of the website. There are a variety of topics (most of which are controversial) so that might make you want to click and see what kind of fun you'll get out of it.
Once you find your preferred room, you should sign up to become a member. Yup, that's right. You can't really chat with anyone for free. If you are willing to indulge yourself in a bit of light entertainment through Chatropolis Gay, then by all means, do so! 
One thing that turned me off was the plethora of external links disguised as navigation features. For all I know, that might steal my account details or take me to a potentially dangerous site.
The Rules of the Website
If you decide to become a member and enter the chatrooms of Chatropolis Gay, then it means you are already agreeing with the website's  terms of service and will comply with their rules. Their rules are as follows:
You cannot be a Chatropolis member if you are below 18.
You cannot be a Chatropolis member if you are engaging in Child Pornography and Child Erotica.
You cannot be a Chatropolis member if you are into Underaged Roleplay
You cannot be a Chatropolis member if you're engaging in activities that can be considered Incestuous or acts of rape.
You cannot be a Chatropolis member if you are engaging in bestiality or zoophilia.
You cannot be a Chatropolis member if you have an offensive name.
You cannot be a Chatropolis member if you are being a cyberbully.
Chatropolis finds it unacceptable when a member is soliciting.
Chatropolis finds it unacceptable if a moderator is impersonated.
Chatropolis finds it unacceptable if chatter is being rude or inappropriate to a moderator.
Is it Safe to Use?
We can't say for certain, but we don't trust the website enough!
Conclusion: Overall, our Chatropolis Gay Review is a 5/10.
Sorry, this website just doesn't cut it for me. Even if I am desperate to meet a new and horny gay on the internet, I'd probably just settle for other adult cam sites. Chatropolis Gay is super outdated, and it feels like every click you make will take you to a potentially dangerous site. It would probably help if the site got improvements design-wise, then maybe that will still change my mind about signing up.
Even if I had the power to create my own room and set my rules, if there are no people to chat with to begin with, then what's the point?
Who knows? Maybe Chatropolis Gay will surprise us in the future with its new features!